Utah lowers its BAC for DUI's to .05%….what does this mean for the remaining states?
On March 16, 2017, the Governor of Utah signed a bill that lowered the State's blood alcohol content (BAC) to .05%, the lowest in the country. The national standard adopted by all remaining states is .08 %.     The reason for the passage of the bill is to save lives.   Utah is not alone in its efforts. This year, Washington and Hawaii have made attempts to lower the legal BAC limit as well, but have been unsuccessful so far.
In 2013, the National Transportation Safety Board, an independent U.S. government investigative agency, published a Special Investigation Report regarding impaired driving.   At the conclusion of this yearlong study, the NTSB recommended the lowering of the legal BAC to .05%.  These reports were presented to Congress, but the NTSB cannot pass laws, it can only make recommendations.  At that time, no one thought it would happen, until recently.
So far, in 2017, three states—Utah, Washington, and Hawaii—attempted to lower their state's legal BAC limit from .08% to .05% BAC. Hawaii ad Washington were unsuccessful, but Utah's bill passed in both Chambers of Congress and was recently signed into law by their governor.  The NTSB is urging other states to follow Utah.  They claim that lowering the BAC to .05% or below would save 1,800 lives a year.
According to the American Beverage Industry, who opposed the NTSB recommendations in 2013, and has publicly criticized Utah's governor for the passage of this new law, this law will criminalize responsible drinkers.   A 120-pound woman who consumes just one drink would be driving under the influence.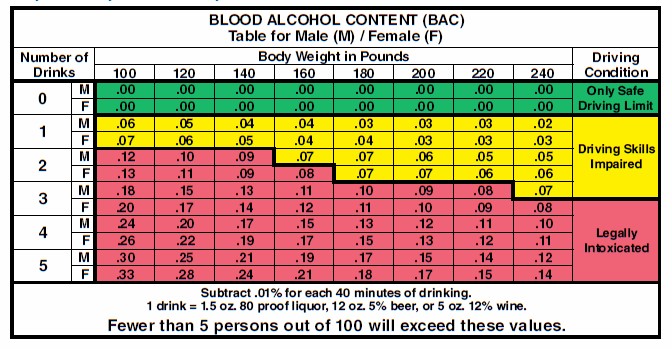 California DMV BAC chart:https://www.dmv.ca.gov/portal/dmv/detail/pubs/hdbk/actions_drink
Back in 1983, Utah was the first state to lower its BAC to .08% from the .10% national standard.  The rest of the state eventually followed suit.  Pennsylvania was one of the last states to adopt this standard in 2003.    If you look outside the country, you will find that many European countries have already implemented the .05% standard.  This includes Belgium, France, Greece, Italy, Ireland, and the Netherlands.   Some European countries have an even lower BAC.  Is Utah setting the trend for the rest of the country, yet again?
Interestingly, the law will go into effect the day before New Years Eve – on December 30, 2018. Does one drink impair your ability to drive or is this law going to penalize those who had just one drink with dinner and chose to drive?